Personal Project Mock Exhibition: A Reflection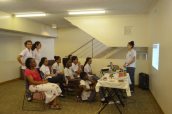 Elya Djaffer talks about her Personal Project to a captivated audienceThe Personal Project is the culmination of almost year's worth of planning, research and implementation which begins in Year 9 and continues into Year 10, with a large part of the project taking place over the summer between Year 9 and Year 10. It is a unique and exciting oppurtunity to explore a topic that the students are passionate about and would like to delve deeper into. They are expected to come up with an end product which takes various creative mediums. Keeping in mind the context and purpose of the project, the students connect it to the Aga Khan strands and look at the bigger picture relevance of their work.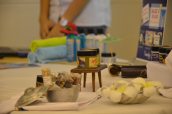 Elya's project involved creating a range of cosmetics from natural materialsThe Mock Exhibition is a chance for students to simulate the experience of the Final which is a chance to gain valuable feedback from students and teachers about their project and their delivery. This experience also enables the Year 10s to serve as role-models to the younger students, who will be embarking on a similar journey in the next few months. Tabreek Somani (Year 10) gives us an insight into her experience:
"On November 04, the Aga Khan Academy Mombasa held a Personal Project Mock Exhibition for the Senior School students and teachers. It was a wonderful opportunity for us to see what our fellow classmates have been working on. It also allowed us to be in a similar situation to the final presentation, hence preparing us better.  Additionally, the Mocks enable the supervisors to see in a more holistic manner how their students have progressed since the initial planning stage.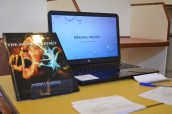 Anisha Kasule's book on the effects of music on behavior for teenagersWhen I attended the Mock Exhibition last year, it really helped me understand the Personal Project better. Similarly, I think that it was very beneficial for the Year 9s who will be starting their projects before our Final Exhibition. Overall, it was a very enriching experience because we got critical feedback from our audience regarding our work and presentations. I think it is a crucial step to accomplishing the Personal Project and it also teaches us to how to share our work with others".
By Aleesha Suleman
Photo Credit: Farosat Alamshoeva