Personal Project Mock Exhibition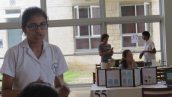 Kamila Janmohammed speaks about raising awareness regarding cervical cancer in Dar-es-SalaamOn 06 November, 2015, the Year 10's showcased their impressive projects at the 2015-2016 Personal Project Mock Exhibition organized by the Senior School. The exhibition was conducted from 2:00-4:00 p.m. at various locations on-campus.
The student projects were very diverse in nature and topics included "Showcasing Swahili Fashion Design and Self Expression; Creating a Booklet", "Teach on the Great Architectural Structures in India: An Awareness Campaign", "Effects of Cervical cancer to Adolescents in Dar-es-Salaam; An Awareness Campaign", and many more.
Apart from displaying their projects very creatively, students also employed their analytical skills innovatively to connect their projects to the global contexts of "Identities and Relationships, Personal and Cultural Identity, Orientations in Space and Time, Scientific and Technical Innovation, Fairness and Development, Globalization and Sustainability", and to the AKA Strands of "Ethics, Pluralism, Economics for Development, Cultures, Governance and Civil Society." This aspect of their projects is particularly crucial as it bridges the divide between theoretical concepts and practical application as the Personal Project gives students the opportunity to intertwine the two to create something unique and useful.
The students had set up their projects and laptops at their allotted work stations, where they received other students and their mentors who came in groups to watch the presentations to offer constructive criticism and suggestions for improvement. After watching the 5-10 mins presentations, attendees also filled out feedback forms, which will prove to be extremely beneficial for the Year 10's as they prepare for the final exhibition in early February next year.
Teachers appreciated the promising development of the projects so far and said that the students exhibited research, insight, evidence and a lot of critical thinking. The mock exhibition was also a big success due to the efforts of all PP Supervisors, Events, IT team, and Maintenance in putting it together.
We wish the Year 10's good luck and hope to see significant improvements in their projects at the exhibition in February next year!
Click here to see photos from the event.
Photos by Yasmyn Ntege