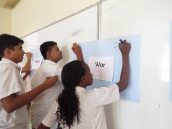 The Aga Khan Academy Mombasa's Senior School held its Annual Peace Summit on 21–22 March 2016, centered on the theme of "Global Conflict Over Resources". The summit is held over two full days and involves both Diploma Programme (DP) and Middle Years Programme (MYP) students, in addition to students from guest schools. The DP1 students engage all the Year 9 students in discussion by making them reflect on global issues such as conflict, resources, and human rights violations.
The Year 9 participants attended various workshops organised by a group of DP1 students, and also attended lectures by keynote speakers. This year's keynote speakers included Naheed Hirji (Growth and Partnerships Manager at Facebook, Kenya), and Joseph Munyambanza (COBURWAS).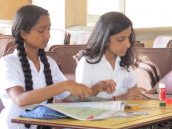 Here is an account of an engaging activity by Tabreek Somani of Year 9. She reflects on the "Hunger Banquet", which encouraged her to think about the cyclical nature of poverty:
"The Hunger Banquet was an activity where Year 9 students were divided into three groups; low-income, middle-income, and high-income. Each group was treated differently according to their socioeconomic status. The poor people were given boiled rice, the middle class was served cake, and the rich people were provided with a proper breakfast.  We were all in a place where we could clearly observe how the other groups were being treated. The Hunger Banquet was a very accurate depiction of our world today – less than one percent of the global population being rich, and the majority being poor. After this activity we concluded that the cycle of poverty affects generations and is really hard to escape. Also, the rich people group was only able to help a small number of poor people, which showed how the rich don't have a large-scale impact on alleviating poverty.  The Hunger Banquet was an amazing introduction as it made us think of sustainable solutions to breaking out of the cyclical nature of poverty – which was what the Peace Summit was mainly about." Read more of Tabreek's reflections on the Peace Summit here.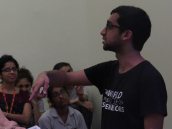 DP1 student Inaara Gangji was inspired by the keynote speech she attended at the Peace Summit:
"The first keynote speaker was Naheed Hirji, Growth and Partnerships Manager at Facebook, Africa. Naheed has in the past worked with Microsoft, Zynga and various social enterprises that are using technology to make a positive change in the world. He currently works on growing Internet penetration in Eastern and Southern Africa using Facebook's free basics (Internet.org). Naheed stirred an interesting discussion around the theme of using Internet as a tool for peace. He started off the discussion with the question "Is Internet a human right?" Students responded with some interesting claims including the fact that humans have lived without the Internet before, so why can't they now? However, some brought up the issue of censorship and how governments monitor the public, thus infringing upon their privacy. A discussion on whether or not Internet is a tool for peace followed. Opinion was split in the room at first. The proposers argued how awareness and fundraising for important causes can be done using social media while the opposing side argued that the Internet has given birth to cyber bullying." Read a summary of the discussion here.
Bijou Mwaura, another DP1 student who also participated in the Summit, had a chance to talk to keynote speaker Joseph Munyambanza, a former refugee from the Congo and founder of COBURWAS. Click here to read Bijou's account of her interaction with him.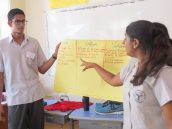 We congratulate the DP1 cohort for a successful Peace Summit that took months of preparation and dedicated planning! Engaging students at school and within the larger Mombasa community to think about these issues is really important in encouraging global citizenship.
Photos by Yasmyn Ntege (DP1 student)