Party Time at the Academy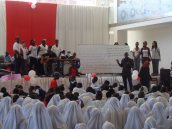 Last week it was Shakespeare, this week it was a massive party and next week it's graduation—the Academy Commons is a busy place! The Academy was delighted to host the Kenya Red Cross Mombasa as they held their annual party for disabled and underprivileged children in Mombasa. Over 1000 children comfortably made the Commons their home for the day and were entertained in fine style. There were many performances, including a sing-along led by the Academy choir, a magician and ventriloquist, followed by a splendid dinner for all.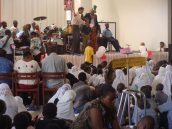 In the morning there was a bouncy castle to have fun on and other games and activities including face painting and colouring-in. As well as making the Commons available, a group of Academy students volunteered to help out and supported the large Kenya Red Cross Mombasa volunteer team that has hosted the party for many years. The Academy was delighted to support this wonderful occasion and congratulates the Kenya Red Cross on mounting and successfully carrying out such a large and worthwhile event. The children were all smiling as they went home with the gift bags and memories of a great day out.