From an Office to a Programme: Changes in the University Counselling Department
Samantha Caras has been working with the Aga Khan Academies since 2015, first in Hyderabad and more recently in Mombasa. Throughout the past three years in Mombasa she has been the University Counsellor and a dorm parent in both Blocks 1 and 3. She has a B.A. from Bowdoin College and is currently finishing her M.Ed. in International Counselling from Lehigh University.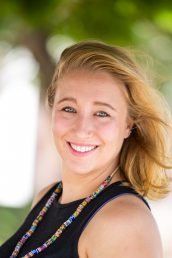 I think it's safe to say that the Academy has historically had a strong university counselling office staffed by counsellors who truly care about the well-being and success of students. However, there is always room for improvement, and these past few years the office has seen some big changes -- and we think they're for the better! My goal over the past few years has been to move from having a university counselling office to having a university counselling program. In order to turn this goal into a reality, Navroz and I have been working hard to integrate university counselling into the DP schedule. Prior to this year, we met with students as a cohort (60-85 students in a room!) and in our office for individual meetings. With our new office changes we now have the ability to meet with students in small groups, host more interactive sessions, facilitate group learning and peer-feedback sessions, and make time for more individual student check-ins.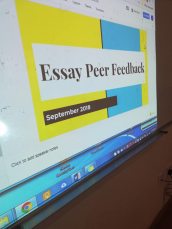 Peer-peer workshop. So, besides that big change, what exactly does it mean to move from an office to a program? It means being proactive, planning ahead, and carving out time for students to learn from one another. It means not only focusing on university admissions, test scores, and scholarship applications, but also discussing support systems and mindfulness. It means preparing students for life beyond the Academy, whether through peer-review Resume workshops, budgeting exercises, or candid discussions on race, culture, and transitioning to life abroad.  It's about cultivating gratitude and appreciation, and about making this process more fun.
So, what exactly is new in our department? Here are a few improvements we've made:
The DP2 Cohort has been divided into four groups for university sessions that meet for 1-hour each week from September through May. In these classes we cover everything from "Filling out the Common Application" to "Budgeting in University " to "Handling College Rejections & Supporting Your Peers". One of my favorite classes involved peer-feedback on essays!
The DP1 Cohort has been divided into four groups for university sessions that meet for 1-hour each week from February through June. These classes cover everything from "Creating a Resume" to "An Overview of Application Processes by Country" to "How to Write a Personal Statement." 
We have started working closely with AKES counsellors across East Africa in hopes of sharing best practices and resources. This past December we hosted counsellors from Kampala, Nairobi, and Dar-es-Salaam on our campus. 
This past October we held a 2-day intensive University Application Workshop for DP1 and DP2 students with our Global Director of University Counselling, Theresa Urist. 
This February we held the first ever SAT Preparation Workshop on campus! This 2-day intensive workshop was led by an AKA Mombasa alumna, Becca Mwanza, who now runs her own tutoring company in Nairobi.
Over the past two years, we have become an active member of the HALI Access Network, a network of organizations dedicated to promoting university access for High-Achieving Low-Income students from the African continent.
We're on social media! We have grown our online presence by being active on our very own Facebook page. This page has increased engagement with students and parents, connected us to university admissions officers, and given our DP students a place to celebrate their achievements (even if they're far from home!). 
Don't believe us when we say the changes are #awesome? Here's what some of our students have to say: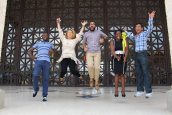 Navroz and Samantha with the AKES counsellors from around East Africa."I enjoyed the university classes because they were small and interactive, and it was much easier to speak up and ask questions in a small group. It was very helpful in the university application process and helped me with all the things I didn't know I needed to know. The session I appreciated the most was learning about finances and living costs in different countries because I hadn't thought about this as much before class." – Stephanie Chege (DP2).
"The Uni sessions have prepared us for life on campus (e.g. budgeting). The sessions have also made the application process very easy. But most importantly, it has been a fun way to allow us to help each other." – Gurjog Singh (DP2).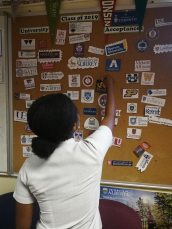 "The classes are helpful and I always look forward to them. They make me set deadlines for myself, and I know that before each session I should write something [like an application essay] in advance and come prepared so that Ms. Sam or Mr. Navroz can review and edit it with me." – Allan Mwandawiro (DP2).
Pinning up another acceptance on the board in the university counselling office!. "There's so much learning that takes place in a university class and it's important for me because my end goal is to get into university.  The university classes help clear all of my doubts and misconceptions that I have about universities. Before coming to DP I had so many different opinions about university, and a lot of people had spread wrong information, so the university   classes have clarified all of the misconceptions I had about university and the process of applying" – Ziyaan Virji (DP1).
"The SAT workshop was useful because I found out there was a lot I didn't know, especially in the English section. I wish it could be even more interactive because I really enjoyed the activities that involved passing objects and paying attention. I was nervous to ask questions, but overall I understood the SAT a lot more after the sessions.  We should keep hosting them because I don't think it's enough to just practice on Khan Academy." – Gabriella Mukisa (DP1).
By Samantha Caras