Nurturing future social innovators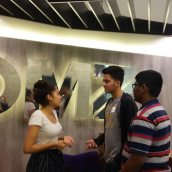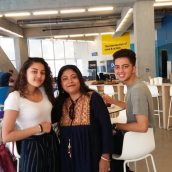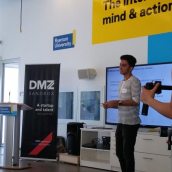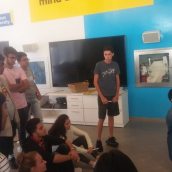 Three Diploma Programme students - Nabil Patel and Rudra Potluri from the Aga Khan Academy Hyderabad and  Elya Djaffar from the Aga Khan Academy Mombasa, accompanied by Economics faculty Jina Saha, attended the Ryerson DMZ Basecamp summer programme in Toronto, Canada. The camp, an intensive six-week programme for young entrepreneurs at Ryerson University, started on 16 July 2018 and is organised by the DMZ Sandbox, an extension of the university's initiative to provide a real-world space for future entrepreneurs from high schools and colleges.
12 scholarships are being provided to Academy students and staff over three years, to take part in annual summer camps aimed at refining business ideas through accessing top industry resources and mentors, and turning them into long-term, sustainable businesses. This collaboration follows a visit by Mohamed Lachemi, president and vice-chancellor of Ryerson University, to the Aga Khan Academy Hyderabad in 2017.
"The programme is geared at ensuring that the initial and on-going hurdles that aspiring entrepreneurs usually face are smoothed out right at the incubation stage. These hurdles may be technological or business oriented," explains Jina. "So to begin with, we had visitors from Disneyland, Medstack and Telus (a renowned telecommunications provider in Canada), who shared their experiences with workshop participants. This set the tone of the programme."
These introductory talks were followed by real-world simulations of commercial enterprises, adapted from the Stanford business model. Students were taken through a roller-coaster ride of initial ideas being developed in their respective models and the kinds of real-life challenges they would face while interviewing/taking surveys of their targeted clientele.
Goals were set in the days that followed, and these were carefully reviewed by the instructor-in-charge for validity and potential flaws. "Students were pitched against each other as a role-play of potential customers and business providers," Jina continues. "All this was not just simulation; these interactions were clearly happening in a space where there was a definite overlap between real studies and real businesses/corporates."
Republished from the AKA Hyderabad site.