Muskaan Kassam advocates for gender equality through art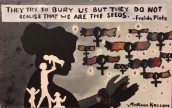 Painting showcasing the integral role of women in society.Muskaan's project is inspired by actress and activist Emma Watson, who has been advocating for gender parity through the HeForShe campaign - a solidarity movement by the United Nations. Muskaan's interest in addressing gender disparity was piqued in Year 9 after learning about social inequalities. That, combined with the past experiences of women in her family motivated her to push for gender equality for the future generation of women. Feeling strongly about the topic, she resolved to use her voice and platform to call for equal opportunities for all people irrespective of their gender.
"My project doesn't just aim to uplift one gender, rather it is about lifting both genders to an equal position," Muskaan said.
Through art, Muskaan has been telling the stories of victims of gender discrimination. She first identifies and interviews them before making paintings that convey their feelings and experiences. She also includes elements of her cultural and personal beliefs on gender topics to give an extra touch to her art.
After meeting the target of 15 paintings that she set for herself, Muskaan plans to host an art gallery in Dar es Salaam, Tanzania and have her paintings placed in public areas to influence even more people so as to move the conversation on gender equality.