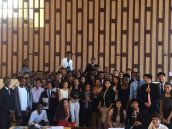 Group picture!On the 13 and 14 of October 2017, about 70 students from year 7 to DP1, attended the 11th annual AKA Mombasa internal MUN conference. 3 of the students who took part in the conference share their experiences and insights with us:
Tabreek Somani, DP1:
It was a wonderful experience where all the members of the Model United Nations were given the opportunity to debate and present their arguments in the General Assembly. I was representing the delegation of the United Kingdom, and being a member of the UN Security Council, it gave me a lot of power and ability to debate on many issues. I was particularly involved when the crisis situation happened where the Security Council nations had veto power. Overall, it was a very enriching experience that developed me further as a person, and enhanced my public speaking skills.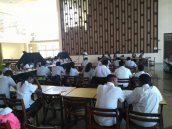 Hard at workMarco Adriko, Grade 10:
EAMUN isn't about being the smartest in the room, it's about knowing how to defend yourself and how to convince others to defend you as well, even when you are wrong or your country is in support of a policy that could potentially destroy 1/8th of the world's overall economy for the betterment of a specific continent. Although that statement above is counterintuitive, in a conference, I am sure I would be able to defend it because of the skills EAMUN has equipped me with. I am more confident when speaking, more passionate when communicating my ideas, and more aware of what is going on around me, especially as a result of this conference, which really allowed me to delve into debate and be aware of the happenings of the world I live in today. I am a proud member of the EAMUN enrichment and will continue to be until I graduate because it's a beacon of knowledge and the key to a world one may not have been exposed to. I'd advise everyone to join, but join with the purpose of furthering yourself as a speaker and knowledge-seeker.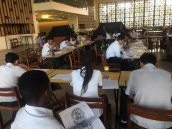 Delegates preparing for the conference Malaika Cheyne, DP1: 
Only a few people in this lifetime will get a chance to make a difference that will impact the world in a meaningful way. MUN gives me the opportunity to use the platform for me to hone a number of skills including debating, public speaking, journalistic skills (research and analysis) and the chance for me to develop my confidence.
This year I was given the chance to be  a Junior Chair and this was a very interesting experience where I got to practice my leadership skills and test my understanding of the inner workings of Model United Nations. I was also the Ambassador for the Democratic People's Republic of Korea (DPRK/North Korea). It was challenging to write a resolution for this country due to the current nuclear threats directed to the United States and in light of them threatening the security of the entire world.
Despite all our (my fellow delegate and mine) efforts, my resolution did not pass in the General Assembly. This was expected, but we took it as a learning opportunity. I was able to speak confidently and make sure I represented my country regardless of my personal opinion on the actions and beliefs of DPRK.
MUN teaches you how to be a diplomat and gives you the opportunities to display knowledge on current affairs for the international community. This was an amazing learning experience and I would highly recommend more students to go to East Africa Model United Nations (EAMUN) and Middle School Model United Nations (MSMUN).
By Saumya Gupta, DP2.