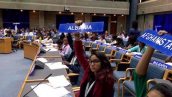 Year 9 student Laiqa Wali representing Albania at the MSMUN Conference in NairobiStudents from Aga Khan Academy Mombasa's Senior School participated in the Middle School Model United Nations (MSMUN) Conference in Nairobi from 23-27 January 2017. The student delegates were representing the countries of Fiji, South Africa, and Albania. In addition, they were also representing Red Cross as one of the observer organisations at the conference.
The Academy was proud to see its students participate actively and rigorously debate on the resolutions proposed at the conference. Bilal Adamjee from Year 9 was one of the Red Cross delegates at MSMUN, and said that it proved to be a great learning experience for him and his friends.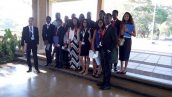 AKA Mombasa delegation"We enjoyed meeting new people, learning about various transnational issues across Africa, the Americas, Asia and other regions. For all the newcomers, this was a good opportunity to experience an actual simulation of the UN, and become aware of the policies of a wide rang of countries from all over the world," stated Bilal.
Bilal added that he realised that in addition to the useful skill of debating that MSMUN enhances, it also encourages participants to improve their problem-solving and networking skills. He believes that it is through connecting with different people and sharing varying viewpoints on global issues that we learn to collaborate, take initiative, and as a result - innovate.