Mombasa County Governor and NBA agent visit AKA Mombasa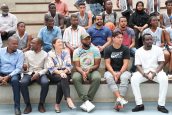 Special guests from the Mombasa County government and NBA agent, JR Hensley, watching the basketball teams play.On 23 August 2019, His Excellency Governor Hassan Ali Joho of Mombasa and a National Basketball Association (NBA) agent, J.R. Hensley, visited the Aga Khan Academy Mombasa to meet the school's girls' and boys' basketball teams in light of their numerous high-level achievements in basketball – most notably in the National Games and with the Giants of Africa basketball camps.   
After watching the teams play basketball, Governor Hassan Ali Joho and Mr. Hensley spoke to the teams on the importance of being active in sports while also striving for a holistic education. The students then shared their experiences in basketball, which helped them build various life skills such as self-esteem, adaptability, perseverance and commitment. They also shared how they're able to use their passion to support local youth around Mombasa. 
.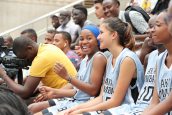 Kindi Mchuwa (far left), year 10, spoke to Governor Joho and JR Hensley about the impact basketball has had on her personal and academic life."The Aga Khan Academy Mombasa not only wants us to be basketballers and enjoy our talent, but to support our community around us," said Kindi Mchuwa (year 10). "For us, basketball is not only a sport, but it's a way of life." 
Governor Hassan Ali Joho, who is working to create sports and arts-based opportunities for talented youth in Mombasa, was impressed by the students' commitment to forging a balance between their personal and academic lives, as well as using their skills in the sport to make a difference in the Mombasa community.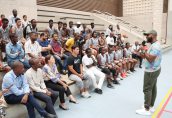 Governor Hassan Ali Joho commending the basketball teams and AKA Mombasa for the work done at the Academy with local communities."The Aga Khan Academies are changing lives," Governor Joho said. "In my opinion, there cannot be a better place than here at the Aga Khan Academy Mombasa, really. You have led the way, and now it is for us and our institutions to emulate. It's a privilege to come to such a private school and enjoy such facilities. It is our responsibility, those that are in leadership, those that are running institutions, such as this one, to allow that opportunity. This community program that you're running - I can't thank you enough." 
The schools' basketball team are four-time Coast champions. Most recently, six students from AKA Mombasa were selected to attend a Giants of Africa basketball camp at the International School of Tanganyika in Dar es Salaam, Tanzania. The camp consisted of 100 under-17 players from five different countries.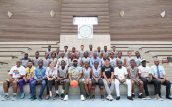 The basketball teams with their coaches, AKA Mombasa administration, special guests from the Mombasa County government and NBA agent JR Hensley."Our school's basketball team has come a long way and being recognised by the County government and other institutions, such as the Giants of Africa, is a great honour," said Jimnah Kimani, the boys' basketball coach. "We look forward to seeing this partnership between the Academy, the County government and the Mombasa community strengthen in the years to come."  
The Giants of Africa (GOA) was founded in 2003 by Masai Ujiri, who is the president of the Toronto Raptors (2019 NBA champions), with the mission of using basketball as a way of educating and enhancing the lives of young Africans. GOA uses basketball to educate and enhance the lives of African youth by providing quality facilities, gear and coaches with the goal of growing the game of basketball within Africa. They create awareness and support for underprivileged children and young adults through their camps, which place emphasis on hard work, accountability, honest living and positivity. They strive to create opportunity not only as a player, but in other related areas – urging African youth to Dream Big. For further information: https://giantsofafrica.org/
Photos courtesy of Mombasa County Government
By Anusha Lalani and Aleesha Suleman