Mind Over Matter yoga enrichment
Mind Over Matter (MOM) is a virtual yoga enrichment by Diploma Programme 1 student, Navika Lodhia, centered on fostering the mental and physical well-being of students. The enrichment, which is being held every Friday for the rest of the semester, also provides an opportunity for students to bond as they partake in a co-curricular activity they enjoy.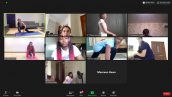 Academy students in a virtual yoga session.Navika, who found her passion for yoga from her mother, says MOM is important for students because it focuses on their willpower to achieve anything they set their minds to.
Yoga exercises are said to be beneficial for the human body and mind as they improve one's balance, flexibility, strength, metabolism, respiration, concentration and more. According to Navika, these activities will help students find a sense of calm amid any hurdles they could be facing as they go about their daily lives. It will also be good for their physical health because they will be keeping active.
In the long run, students should be able to reflect upon the progress of their mental and physical well-being as is the goal of the enrichment.