Meet Vidushi Mehrotra - Our new Academy Fellow!
The Aga Khan Academy Mombasa welcomed 15 new staff members from around the world to its community for the 2019 – 2020 academic year. Throughout the next few weeks, profiles of the new staff will be shown, introducing who they are and how they want to bring change to the Academy.
Indian born and raised, Vidushi Mehrotra joined the Aga Khan Academy Mombasa as an Academy Fellow focused in the department of Communications. She holds a B.A. (Hons) degree in Economics from Christ University, Bangalore in India, and recently graduated with an MSc. in Development Studies from the London School of Economics and Political Science.
Before joining the Academy, Vidushi worked as a graduate trainee at the United Nations Economic and Social Commission for Asia and Pacific, in its sub-regional office at New Delhi. At UNESCAP, Vidushi compiled a draft report on data gaps pertaining to Sustainable Development Goals and their respective indicators, for 10 countries in the south-south west region of Asia.
Vidushi believes that the most stimulating part about being a Fellow is the ability to take initiative.
"Through my position, I hope to encourage media coverage of different stakeholders in the Aga Khan Development Network throughout Africa, " said Vidushi.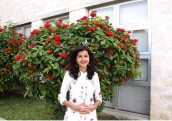 Vidushi MehrotraAs a mentor to Diploma Programme students, she also aims to hone students' research and writing skills.
Vidushi hopes to uphold the vision and mission of the Academy by striving to be a locally rooted global thinker. She believes the AK Strand of Economics for Development resonates with her the most.
"Having being educated in my home country and abroad, I understand the challenge of being exposed to global paradigms, and consciously drawing boundaries between accepting and overcoming them," she explained.
From her time at the Academy so far, Vidushi said she was very excited to have worked with BBC Africa, and to have travelled to Gilgil, Naivasha with DP1 students.
"I love the ocean and natural wildlife in and around Mombasa," she added. "Living on an island is a dream come true for me!"