The Aga Khan Academy Mombasa welcomed 22 new staff members from around the world to its community for the 2018 – 2019 academic year. Throughout the next few weeks, profiles of the new staff will be shown, introducing who they are and how they want to bring change to the Academy.
Victoria Sada, Receptionist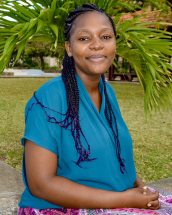 Victoria SadaVictoria Sada was born and raised in Mombasa, which she calls her "sweet home." Victoria previously worked in the hotel industry for two years and is now working as the Academy's receptionist, where she hopes to build her career.
"My hope for the year is to help advance the goals and objectives of the school, to build worthwhile professional relationships and earn the respect and trust of others," Victoria said. "This will enable me to have a meaningful career."
Through her role, Victoria said she wants to build strong, working relationships with all of the staff, which she wants to be reflected on the students as well.
"I hope to work hand in hand with my colleagues in order to uphold His Highness the Aga Khan's vision and mission for the school through being a role model worth being appreciated by the children," Victoria said.
Although the academic term just began recently, Victoria said she already loves the warm welcomes she gets from the students.
"My favourite part of the Academy is walking through the gazebo in the morning and through the (Multi-Purpose Hall) and being greeted by the students," Victoria said. "Being born and raised in Mombasa, starting mornings with greetings is the most filling feeling that drives on through the day."