The Aga Khan Academy Mombasa welcomed 22 new staff members from around the world to its community for the 2018 – 2019 academic year. Throughout the next few weeks, profiles of the new staff will be shown, introducing who they are and how they want to bring change to the Academy.
Victor Orengo, Steward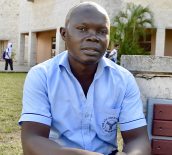 Victor OrengoVictor Orengo was born in western Kenya, Busia county, and is one of the new stewards at the Academy. Victor has previously worked as a steward at the Mombasa Sports Club for two years and was recently a gardener at the Academy for three years.
As a steward, Victor said he strives to keep the kitchen department clean and ready for the students and staff.
"I'd like to maintain cleanliness in the kitchen department as a steward because I know the life of all of the people here on campus and by not making the environment clean, it's not good for everyone here," Victor said. "My role is to make sure the department is totally clean."
The idea of inclusiveness speaks to Victor the most when thinking about how he can uphold the vision and mission through his position, he said.
"According to the vision and mission of the Academy, we have to put aside tribalism, we have to work together and we should be compassionate," Victor said. "I have to treat [people] as equals. From whatever tribe, whatever country, we are all equal when we are here. We are from the same family."
Victor said he admires the kind-hearted attitude so many people at the Academy have.
"What I have seen here [at the Academy] is that people are friendly," Victor said. "The other thing I have seen is that they're really caring about each other. There was a day when a student fell down on the ground and I saw how people rushed to the student and I felt how caring the people [at the Academy] were."