Meet Victor Emmanuel Okello - Our new Electrician!
The Aga Khan Academy Mombasa welcomed 15 new staff members from around the world to its community for the 2019 – 2020 academic year. Throughout the next few weeks, profiles of the new staff will be shown, introducing who they are and how they want to bring change to the Academy.
Victor Emmanuel Okello, who hails from Kisomo joined the Aga Khan Academy Mombasa as an electrician. He joined the Academy as an intern in June 2018, and acquired full time position as an electrician in April this year. Prior to joining the Academy, Victor pursued a one year certificate course in electrical engineering from Kenya Coast National Polytechnic.
Through his position, Victor hopes to upgrade electrical technology at AKA Mombasa commensurate with market standards.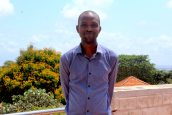 Victor Emmanuel OkelloHe said, "One of the most important things I have learnt in my profession is that technology changes with time, and the Academy constantly strives to keep up with that."
Victor aims to uphold the mission and vision of the Academy by treating all students equally and with care. 
"Ensuring small things like students get hot water in the morning goes a long way in enabling them to be more productive at school, " explained Victor.
From his time at the Academy, Victor's favourite part is interacting with students from different parts of the world. "It allows me to be more open-minded," added Victor.