The Aga Khan Academy Mombasa welcomed 22 new staff members from around the world to its community for the 2018 – 2019 academic year. Throughout the next few weeks, profiles of the new staff will be shown, introducing who they are and how they want to bring change to the Academy.
Stella Wangu, Expressive Arts & Technology Head of Department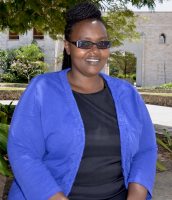 Stella WanguStella Wangu is from central Kenya is the new expressive arts & technology Head of Department. Stella worked at Premier Academy in Nairobi for 10 years, the Academy for three and a half years and at the International School of Lusaka in Zambia for two years.
Through her position, Stella said she wants to ensure her department is well-organized and recognized more often.
"The first focus for the department is to make sure all of the new staff are settled in comfortably and probably get as much training as they need in order to make them comfortable with the curriculum," Stella said. "We also need to improve the quality of learning in the department and get visible in the school. We should have more art shows, revive the school orchestra, maintain the high standards in signing."
Stella said she will uphold the vision and mission of the Academy by helping students become more self-aware through any form of expression.
"I'd love to increase the number of students going toward expressive arts so they can know how to express themselves and take action using their arts and develop confidence and self-awareness," Stella said. "By being self-aware, the students are able to be aware of their surroundings and be aware of others. By using the arts to create self-awareness, this would be the first step towards excellence and leadership."
From her time at the Academy so far, Stella said she admires the way teachers and students interact with one another.
"I love the openness with which people relate to each other and the respectful and free relationship between teachers and students," Stella said. "It's not like the teachers are on one end and the students are on the other."