The Aga Khan Academy Mombasa welcomed 22 new staff members from around the world to its community for the 2018 – 2019 academic year. Throughout the next few weeks, profiles of the new staff will be shown, introducing who they are and how they want to bring change to the Academy.
Sara Lalani, Academy Fellow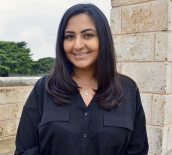 Sara LalaniSara Lalani was born in Toronto, Canada and is one of the new academy fellows focusing on English language support. Sara has worked in marketing and hospitality, as an English as a Foreign Language (EFL) teacher at EC English, a private English language school, and as a professor at the English Language Institute at Seneca College in Toronto, Canada. Recently, Sara worked as an EFL teacher at Kings Summer, a summer school in England.
Through her position, Sara said she wants to "set up a support program for students who are learning English as an additional language."
Sara said she can uphold the vision and mission of the Academy through her position by helping students communicate effectively, which is important in today's diverse world.
"I believe that learning a language can only create opportunities and is not just for the classroom, but something that is applicable in everyday life," Sara said. "Helping someone develop a better grasp of the English language is something I take great pride in because I know I'm making a difference in his or her life."
From the time she has spent at the Academy so far, Sara said she loves the people.
"I love the culture that exists within our campus," Sara said. "Everyone is very warm and welcoming."