Meet Samuel Asibah - Our new teacher in Senior School!
The Aga Khan Academy Mombasa welcomed 15 new staff members from around the world to its community for the 2019 – 2020 academic year. Throughout the next few weeks, profiles of the new staff will be shown, introducing who they are and how they want to bring change to the Academy.
Kenyan born and raised, Samuel Asibah grew up in Nakuru county, and joined the Aga Khan Academy Mombasa as a new teacher in Senior School. He has 19 years of professional teaching experience to his credit, having worked in Tumaini House School for 11 years, Tumaini Secondary School for five years, and most recently at Lake Nakuru for three years.
Through his position, Samuel aims to aid in student growth.
"I want to help learners realize their potential through their work," said Samuel.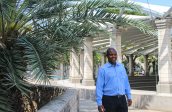 Samuel AsibahSamuel also hopes to align his work ethic with the vision and mission of the Academy.
"I hope to strategically focus on all academic and social aspects to improve and enhance the lives of all members of the Aga Khan community," Samuel said. 
From his time at the Academy so far, Samuel finds professional development programs geared towards improving academic and social welfare of the AKA Mombasa community very enriching.