The Aga Khan Academy Mombasa welcomed 22 new staff members from around the world to its community for the 2018 – 2019 academic year. Throughout the next few weeks, profiles of the new staff will be shown, introducing who they are and how they want to bring change to the Academy.
Ric Faulkner, Student Leadership Consultant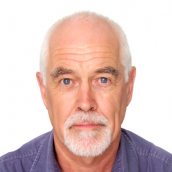 Ric FaulknerRic Faulkner was born in the United Kingdom and is the new student leadership consultant at the Academy. Ric has lived in Hong Kong for nine years and Kuala Lumpur for five years, where in both places he taught economics and theory of knowledge, along with being involved in leadership development.
Through his role, Ric said he wants to place a higher emphasis on leadership at the Academy, which he believes relates to the vision and mission of the Academy.  
"I will be investigating ways in which the whole concept of 'leadership,' which [His Highness the Aga Khan] has added to the IB learner profile, [can] be more fully integrated into everything the Academy does," Ric said. "I hope to achieve this over time so that eventually everyone working for the Academy, when planning lessons or trips, considers opportunities for leadership as an area to be planned for."
Ric said his experience at the Academy so far has been enjoyable because of the students.
"So far I have been very impressed by the Academy," Ric said. "My interactions with the students have shown them to be polite but interesting, thoughtful but fun-loving. I'm going to miss being a classroom teacher and interacting with students every day."