Meet Polycarp Ageta Omayio - Our new PHE teacher!
The Aga Khan Academy Mombasa welcomed 15 new staff members from around the world to its community for the 2019 – 2020 academic year. Throughout the next few weeks, profiles of the new staff will be shown, introducing who they are and how they want to bring change to the Academy.
Polycarp Ageta Omayio hails from Nyanza in Kenya and joined the Aga Khan Academy Mombasa as the new Physical and Health Education teacher. Before joining the Academy, Polycarp worked at the Jaffery Academy in Mombasa for 12 years.
Through his position at the Academy, Polycarp hopes to learn as well as fully implement the International Baccalaureate curriculum in both Primary Years and Middle Years Programme.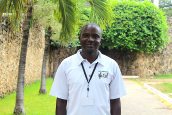 "I am currently working with the Junior School to prepare an under-eleven cricket team for inter-school matches," he explained.
Polycarp Ageta Omayio Polycarp aims to uphold the mission and vision of the Academy by engaging in stimulating programmes across the Academy.
He said, "I hope to deliver rigorous assessment that would aid in the development of inquiring, knowledgeable learners who are caring, peaceful and respectful towards diverse cultures of the world."
From his time at the Academy so far, Polycarps's favourite thing about the Academy are the numerous opportunities available to students and teachers alike.
"There is so much room to explore, make mistakes and learn while striving to bring out learners who can thrive anywhere in the world," he added.