Meet Patricia Musanga - Our new Resource Development Officer!
The Aga Khan Academy Mombasa welcomed 15 new staff members from around the world to its community for the 2019 – 2020 academic year. Throughout the next few weeks, profiles of the new staff will be shown, introducing who they are and how they want to bring change to the Academy.
Patricia Musanga was born and raised in Nairobi and joined Aga Khan Academy Mombasa as the new Resource Development Officer in the External Affairs department. She has previously worked at the National Disaster Operations Centre as an intern in the emergency management unit, and at the National Environment Management Authority in the compliance and enforcement office. Before joining AKA Mombasa, Patricia most recently worked with the Elections Observation Group where she was responsible for monitoring electoral practices and processes in Kenya.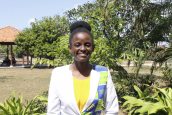 Patricia MusangaThrough her position, Patricia hopes to further enhance her understanding of international development, and use her experience to improve student life by fundraising for scholarships.
 "My background in international diplomacy brings a well- rounded perspective to my work at the Academy," said Patricia.
She aims to uphold the mission and vision of the Academy by encouraging pluralism in the Academy, as she strongly believes that "inclusivity is a key value in education."  
From her time at the Academy, Patricia enjoys the constant interaction with staff and students.
"I enjoy working collaboratively with people towards achieving a common goal," said a beaming Patricia.