Meet Natasha Haque - our new Humanities Teacher Coach!
The Aga Khan Academy Mombasa welcomed 15 new staff members from around the world to its community for the 2019 – 2020 academic year. Throughout the next few weeks, profiles of the new staff will be shown, introducing who they are and how they want to bring change to the Academy.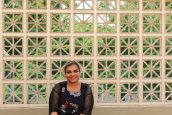 Natasha HaqueNatasha Haque joined the Aga Khan Academy Mombasa as a new Teacher Coach for Humanities. She has notable global work experience as a Humanities teacher, having worked in the UK, Dubai, Bahrain and most recently Tanzania, where she was the Middle Years Programme coordinator at an international school. Natasha also has experience working with the International Baccalaureate on curriculum reviews and as an examiner. 
Natasha considers herself to be "multi-local", as she grew up in different countries across the world. Although her parents hail from the Indian subcontinent, she did most of her schooling in Britain. 
Through her position, Natasha said she hopes to promote and embed best practices in learning and teaching. 
"My hope is to share knowledge, experiences, ideas and creativity to collaborate with other teachers, and ultimately improve student experience at the Aga Khan Academy Mombasa," Natasha said. She is also looking forward to being involved in student life as a DP2 mentor and personal project supervisor. 
Natasha said she will uphold the vision and mission of the Academy through her personal teaching and learning philosophy of acknowledging education as a creative and joyful process, which aligns with that of the Academy. 
"I see my role as one where I get to dig deep to see how all these ideas are embedded in the curriculum, as well as collaborate with colleagues and students to promote the school's mission and vision ever more deeply in the curriculum," Natasha said. 
Although she has been at the Academy only for a few weeks, Natasha says she feels very much part of the school community. 
"The best part of the Academy so far is the warmth and friendliness of the community here," Natasha said.