The Aga Khan Academy Mombasa welcomed 22 new staff members from around the world to its community for the 2018 – 2019 academic year. Throughout the next few weeks, profiles of the new staff will be shown, introducing who they are and how they want to bring change to the Academy.
Nancy Oruko, English Head of Department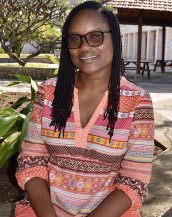 Nancy OrukoNancy Oruko was born and raised in Kenya and is the new English Head of Department at the Academy. Nancy has over 20 years of teaching experience and has taught the national curriculum in public schools in Kenya and the IB curriculum at AKA Mombasa and abroad.
Through her position, Nancy said she wants to encourage all students to work together and learn from each other.
"[I want to] tap into the [students'] individual talents and [promote] a culture of sharing and collaboration for the gain of all students," Nancy said.
To align her position with the mission and vision of the Academy, Nancy said she wants to help students understand their own potential and ability to make an impact on the world.  
"From experience, I know that as a teacher, I am in a position of power," Nancy said. "I have power in my words and actions, which can change lives forever. I can influence students to have hope and faith in their abilities to not only improve themselves, but also the world around them. In my teaching interactions with them, I will endeavor to help students identify what their abilities are and how they can serve in their immediate contexts."
As a returning teacher, Nancy said she enjoys seeing familiar faces and meeting new ones at the Academy.
"[I like] connecting with students and colleagues and reuniting with colleagues I had left here four years ago," Nancy said.