Meet Michael Lizotte – our new Music Director
The Aga Khan Academy Mombasa welcomed new members of staff from around the world for the 2020 - 2021 academic year. Over the next few weeks, profiles of the new staff will be shown, introducing who they are and how they hope to uphold the mission and vision of the Academy.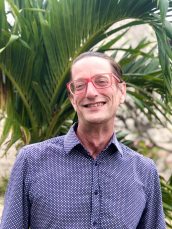 Michael Lizotte.Michael Lizotte, who comes from Massachusets USA, joins the Aga Khan Academy Mombasa as the new Music Director and Music teacher for the Middle Years Programme (MYP).
Michael is certified to teach vocal, instrumental and general music and is particularly interested in the field of musical theatre. Being a Musical Director for many international children's choirs inspired Michael to move to full-time teaching. He has since worked in international schools in Egypt, Myanmar, Ethiopia and Kuwait, visiting Kenya whenever possible over the last 3 years.  
Through his position, Michael hopes to build bridges, not only through virtual classes but throughout the entire community. "I hope to plant the seeds of excitement in students so we can work towards not only sharing our music at school, but also using music to uplift and empower children throughout Mombasa," Michael says. "During this tumultuous time, we need a lot of healing. Music is a great source of comfort and inspiration we all need to help us along the way." 
The mission and vision of the Academy resonate with Michael's own mission in life to nurture exceptional young people regardless of background. "A music teacher teaches so much more than just music, we overlap into many disciplines. At our core, we teach how to connect, how to live and love, how to be better people. I am driven to find ways our school and students can connect, with each other and the community, to use music as a tool to improve lives." 
Michael's favourite part about the Academy are all the kids he teaches, "Hands down I have to say ALL the kids in my classes are rock stars!!!"