Meet Maryanne - our new Academy Fellow!
The Aga Khan Academy Mombasa welcomed 15 new staff members from around the world to its community for the 2019 – 2020 academic year. Throughout the next few weeks, profiles of the new staff will be shown, introducing who they are and how they want to bring change to the Academy.
Kenyan-born Maryanne Aluoch was raised in Geneva and is one of the new Academy Fellows focused in the Student Exchange office. She graduated with a BSc in Psychology from Royal Holloway, University of London in 2016 and has a solid three-year work experience to her credit. She previously worked as an intern at the Kenya Medical Research Institute, following which she joined Kivukoni International School as a special education and French teacher. At her most recent job at a small and medium-sized enterprise called the ToolkitiSkills, she helped empower vulnerable youth from the Miritini, Jomvu and Changamwe areas in Mombasa with employability and technical skills training.
As an Academy Fellow, Maryanne said she hopes to grow her skill set to include the facet of the AK Strands that relates to governance and civil society. 
"I hope to learn more about governance, and good governance at that, as well as learn how to use my own skill set to effect change at AKA Mombasa and beyond" said a beaming Maryanne.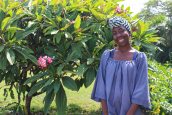 Maryanne AluochMaryanne talked about how her educational background and upbringing have equipped her with a fundamental understanding of "things that both divide and connect the human experience". Having internalised this from a young age, Maryanne believes she will uphold the vision and mission of the Academy by interacting and learning from people of all walks of life and of all ages. 
After two weeks at the Academy, Maryanne said her favourite part is its beautiful Swahili architecture. She added, "I have also been blessed with a lovely flat mate - a very bubbly Indian."