The Aga Khan Academy Mombasa welcomed 22 new staff members from around the world to its community for the 2018 – 2019 academic year. Throughout the next few weeks, profiles of the new staff will be shown, introducing who they are and how they want to bring change to the Academy.
Kainat Mitha, Academy Fellow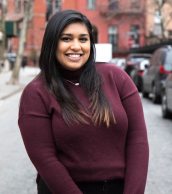 Kainat MithaKainat Mitha was born and raised in the USA and is one of the new academy fellows focusing on enrichment. Kainat recently graduated from New York University and has worked at her university and in the marketing department for Coca-Cola.
As an academy fellow, Kainat said she wants to focus on the growth of the Academy and the people within.
"My goal is to identify the needs within the school structure and student body and help create sustainable solutions that will enhance the student experience," Kainat said. "Through these acts, I want to focus on growing and helping those around me grow."
In order to uphold the vision and mission of the Academy, Kainat said she will help students see the potential in themselves in order to become leaders.
"For me, the most important part of the mission and vision is to help create ethical, homegrown, internationally-minded leaders," Kainat said. "I want to help students become the best versions of themselves and I want to be an asset, a resource, for these students. I will support them in various aspects of their lives – academics, social, extracurricular, etc. I am hoping that together we can work towards this common vision."
For Kainat, her favourite part about the Academy so far has been the students.
"(The students) are all super welcoming and full of life," Kainat said. "They are all super welcoming and full of life. I think it'll be a wonderful year and I can't wait to get to know them better!"