Meet Ifran Madataly - Our new Academy Fellow!
The Aga Khan Academy Mombasa welcomed 15 new staff members from around the world to its community for the 2019 – 2020 academic year. Throughout the next few weeks, profiles of the new staff will be shown, introducing who they are and how they want to bring change to the Academy.
Ifran Madataly, from Madagascar, was in the graduating class of 2015 at AKA Mombasa. A recent graduate from New York University, Abu Dhabi, he is now an Academy Fellow focusing on University Counselling. 
Although Ifran has substantial part-time experience working in a startup in Paris and a consulting firm in Dubai, he is looking forward to the position of Academy Fellow, as this is his first full-time job.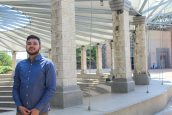 Ifran Madatalay"Working in University Counselling will enable me to help students get selected into universities that best align with their interests," said Ifran. "I am also looking forward to co-teaching Economics at the Academy." 
Ifran believes he will uphold the Academy's vision by facilitating an open-minded way of thinking. 
"I want to encourage appreciation of diversity within the campus, which in turn will make students broad-minded, and help them adapt and succeed wherever they go next," Ifran said.
As an alumnus, Ifran said he is excited to come back to the happy faces of staff members that consistently aid in students' growth and allow them to become the best versions of themselves.