The Aga Khan Academy Mombasa welcomed 22 new staff members from around the world to its community for the 2018 – 2019 academic year. Throughout the next few weeks, profiles of the new staff will be shown, introducing who they are and how they want to bring change to the Academy.
Hesborne Mosoti, Art Teacher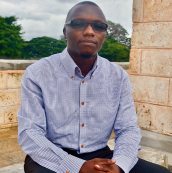 Hesborne MosotiHesborne Mosoti is from Nairobi, Kenya is a new art teacher at the Academy. Hesborne previously worked at Braeburn Mombasa International School for three years.
As an art teacher, Hesborne said he wants students to appreciate the subject.
"I want to make the art learning process fun, exciting and resourceful," Hesborne said. "This will attract more students to take art at a diploma level."
Hesborne said he wants the students to use art as a way of communicating the vision and mission of the Academy to others.
"I would like to develop knowledgeable learners who are critical thinkers by training them on how to communicate artistically and aesthetically and I would like to foster leadership in our learners so that they can make the world a better place," Hesborne said.
From his time at the Academy so far, Hesborne said he admires the students.
"The students are passionate and have a thirst for knowledge, which is really motivating," Hesborne said.