The Aga Khan Academy Mombasa welcomed 22 new staff members from around the world to its community for the 2018 – 2019 academic year. Throughout the next few weeks, profiles of the new staff will be shown, introducing who they are and how they want to bring change to the Academy.
Hafida Bensaadoune, Master Teacher of Science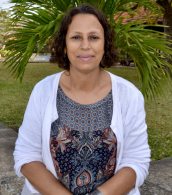 Hafida BensaadouneHafida Bensaadoune is from France and is the new master teacher of science at the Academy. Hafida has worked in various parts of the world for more than 20 years including Europe, North Africa, Middle East and Central Asia.
Through her position, Hafida said she hopes to encourage students to become role models for others so they can make a positive impact on the world.
"I want to merge content with context and use the Aga Khan Curricular strands to give students ownership and leadership of their learning," Hafida said. "I want the students to learn to become self-confident, independent and outgoing global citizens."
In order to uphold the vision and mission of the Academy, Hafida said she wants to bring about a sense of compassion and sharing between the staff and students.
"We're all connected in some way, despite language or anything, and I want to pass on my passion (of sciences) to others," Hafida said.
Throughout her time at the Academy so far, Hafida said she admires the people of the Academy.
"All of the Academy staff are very friendly and helpful team players," Hafida said.