Meet Fredrick Wagah - our new ITGS teacher!
The Aga Khan Academy Mombasa welcomed 15 new staff members from around the world to its community for the 2019 – 2020 academic year. Throughout the next few weeks, profiles of the new staff will be shown, introducing who they are and how they want to bring change to the Academy.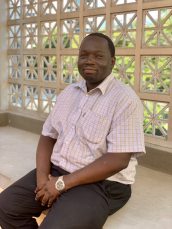 Fredrick WagahFredrick Wagah, was born and brought up in Nairobi and joined the Aga Khan Academy Mombasa as the new Information Technology in a Global Society (ITGS) teacher.  He has 17 years of notable work experience to his credit, having worked in Kenya and most recently at Rainbow International School in Uganda where he taught computer science to primary school students.
Through his position, Fredrick hopes to encapsulate his knowledge of different cultures and curriculums into his teaching techniques at AKA Mombasa.
"I want to bring out the best of digital design as a subject as well as help uplift the notion that technology is an enabler that is capable of solving most of the problems we have in our society today," explained Fredrick.
Fredrick believes that he will uphold the mission and vision of the Academy by embodying learning as a two-way process in his classrooms.
"I think the AK strand of pluralism highlights this process as we are continually learning from others who are different from us to develop a richer, more complex view of the world," said Fredrick.
When asked about his favourite part of the Academy, Fredrick finds it difficult to place a finger as he believes there's so much to be grateful for at AKA Mombasa.
"There are so many things to appreciate at the Academy including the support of my colleagues, the warm and friendly atmosphere within the campus and the dedication to learn among the students," added Fredrick.