The Aga Khan Academy Mombasa welcomed 22 new staff members from around the world to its community for the 2018 – 2019 academic year. Throughout the next few weeks, profiles of the new staff will be shown, introducing who they are and how they want to bring change to the Academy.
Fredrick Agolah, Facilities & Maintenance Admin Clerk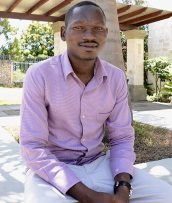 Fredrick AgolahFredrick Agolah was born in Kenya and is the new facilities & maintenance clerk. Fredrick previously worked as an electrical technician and engineer at Narcol Aluminum Rolling Mills for two years, Wartsila East Africa Limited for six months, Ashton Apparels EPZ for one year and Reliable Engineers Limited for one and a half years.
Fredrick said he hopes to bring about change in the way maintenance is done at the Academy, which includes being prepared for any maintenance problem even before it occurs.
"[I want to have a] different approach to maintenance operations whereby we focus more on preventative maintenance other than corrective maintenance after a fault has occurred," Fredrick said.
In order to uphold the vision and mission of the Academy through his position, Fredrick said he has to create a suitable workplace for all.
"[I will ensure] the student, teacher and support staff get the best working environment," Fredrick said. "[I will make sure] all the facilities around the school [are] in good working order and the students get a superb learning environment."
From the time Fredrick has spent at the Academy so far, he said he admires what the Academy is made of, both in a physical and metaphorical sense.
"[I like] the architecture," Fredrick said. "The facilities are state-of-the-start and modern technology is practiced in almost all areas. I am also thrilled by the diverse cultures intermingling not only on the students' side, but also with the teaching and non-teaching staff."