The Aga Khan Academy Mombasa welcomed 22 new staff members from around the world to its community for the 2018 – 2019 academic year. Throughout the next few weeks, profiles of the new staff will be shown, introducing who they are and how they want to bring change to the Academy.
Francis Nyadida, Music Director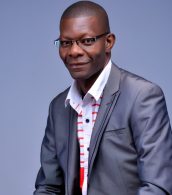 Francis NyadidaFrancis Nyadida was born and raised in Kenya and is the Academy's new music director. Francis has taught IGCSE music for 12 years at Melvin Jones Lions Academy and Oshwal Academy Nairobi Senior High. He also has three years of teaching music at The Aga Khan Academy Nairobi Senior School.
As the new music director, Francis said he wants "to engage, educate, enrich and inspire the community by presenting diverse choral music with artistic excellence."
Francis also said he wants the music he and the students produce to show how it upholds the vision and mission of the Academy.
"I intend to be a catalyst for an inspired community through live and innovative quality musical performances that value integrity, stewardship and that strive to create a balance between [the Academy's] passion for reaching everyone," Francis said. "[I want to provide] diverse musical experiences for our children and adult community that build and support the appreciation of music with all generations."   
Francis said his favourite part about the Academy is how present the value of pluralism is.
"I love the fact that the Academy is geared towards upholding pluralism and embracing and celebrating diversity," Francis said.