The Aga Khan Academy Mombasa welcomed 22 new staff members from around the world to its community for the 2018 – 2019 academic year. Throughout the next few weeks, profiles of the new staff will be shown, introducing who they are and how they want to bring change to the Academy.
Felix Ogweno, Steward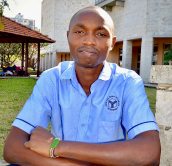 Felix OgwenoFelix Ogweno is from Kisumu, Kenya and is one of the new stewards at the Academy. Prior to becoming a steward, Felix worked at a cleaning company, Parapet, for the Academy for a year and at a hotel for six months before that.
Through his position Felix said he wants to aim for the best because he understands the vision and mission of the Academy and how the Academy is "molding tomorrow's leaders."
"I will try to perfect whatever I do," Felix said. "I want to make sure I'm always time conscious, make sure the utensils are cleaned and always ready to be used at any time."
Felix said his favourite part about the Academy is how he and his colleagues work together.
"In the kitchen we always cooperate with each other, which makes me feel happy and makes me love what I'm doing," Felix said. "We have a very, very cooperative team in the kitchen."