The Aga Khan Academy Mombasa welcomed 22 new staff members from around the world to its community for the 2018 – 2019 academic year. Throughout the next few weeks, profiles of the new staff will be shown, introducing who they are and how they want to bring change to the Academy.
Faith Abuya, English Teacher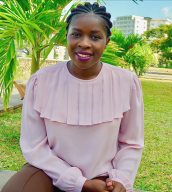 Faith AbuyaFaith Abuya was born and in Kenya and is a new English teacher at the Academy. Faith previously worked in Dar es Salaam at the Aga Khan Mzizima Secondary School for four years.
Through her position, Faith said she wants to develop a positive bond with the students and staff, which will also help her align her position with the mission and vision of the Academy.
"This year, I hope to establish effective and perceptive relationships with my students and colleagues," Faith said. "I will uphold the vision and mission by working collaboratively with colleagues in various levels and endeavoring to inculcate the Academy values through my interactions with students during teaching and learning."
Faith said she enjoys her interactions in the Commons "because of the sense of pluralism it brings."