The Aga Khan Academy Mombasa welcomed 22 new staff members from around the world to its community for the 2018 – 2019 academic year. Throughout the next few weeks, profiles of the new staff will be shown, introducing who they are and how they want to bring change to the Academy.
Daniel Otogo, French teacher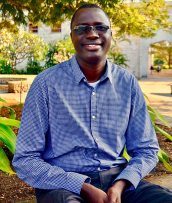 Daniel OtogoDaniel Otogo was born in Busia, Kenya and is a new French teacher at the Academy. Daniel previously worked at The Aga Khan High School, Mombasa and has 13 years of teaching experience.
Through his position, Daniel said he not only wants students to understand French, but also appreciate it, which he intends to do through his teaching. He said this will also help him and his students uphold the vision and mission of the Academy.
"[I want to] develop in learners a positive attitude and strong liking for the French language," Daniel said. "[I want to] plan and design interesting lessons that make learning a creative and joyful process."
So far, Daniel said his experience at the Academy has been good because of the students and staff.
"[I enjoy] the enthusiasm and the discipline of the students," Daniel said. "[Also] the high level of humility exhibited by the workers of the Academy."