The Aga Khan Academy Mombasa welcomed 22 new staff members from around the world to its community for the 2018 – 2019 academic year. Throughout the next few weeks, profiles of the new staff will be shown, introducing who they are and how they want to bring change to the Academy.
Betty Khavele, Steward: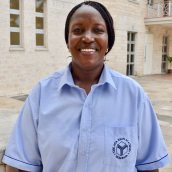 Betty KhaveleBetty Khavele was born in Western Kakamega and has been living in Mombasa since 2000. She worked as an administrator in Kilifi Plantations and a marketing officer at Manyub Enterprises in the past and is now a steward at the Academy.
Betty said she believes teamwork is an important part of her position because "when you work as a team, you have a goal. But when you work alone, you might mess things up."
In order to uphold the vision and mission of the Academy, Betty said she wants to make sure the students and staff get food and clean cutlery and cups at the right time. Although she has to come to the Academy very early in the morning for her role, Betty said she loves meeting the new, friendly faces from around the world.
"Where I was working before, there wasn't that many different people," Betty said. "But here, there are new people, many other from different countries, different tribes and we are together as a team."