The Aga Khan Academy Mombasa welcomed 22 new staff members from around the world to its community for the 2018 – 2019 academic year. Throughout the next few weeks, profiles of the new staff will be shown, introducing who they are and how they want to bring change to the Academy.
Anusha Lalani, Academy Fellow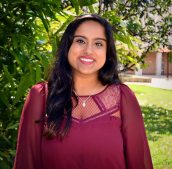 Anusha LalaniAnusha Lalani was born and raised in the USA, specifically from Houston, Texas, and is one of the new academy fellows focused in the communications office. Anusha recently graduated from the University of Texas at Austin and has worked as a breaking news and metro intern at the Austin American-Statesman and as a general reporter, senior reporter and news desk editor at The Daily Texan.
As an academy fellow, Anusha said she hopes to make a positive impact on the students, however big or small.
"I believe all students have potential and sometimes they need a little nudge to get there," Anusha said. "I hope to be that nudge so they can realise what all they can accomplish with their lives in order to make an impact on the whole world."
Anusha said she will uphold the vision and mission of the Academy by being accepting toward all.
"The Academy is home to numerous students and staff from all walks of life from around the world," Anusha said. "There is so much to learn from every single person and I want to have an open mind and be accepting of all through my position."
From her time at the Academy so far, Anusha said she admires everyone she has interacted with.
"Everyone at the Academy is very friendly and willing to help you," Anusha said. "I just graduated from university with my undergraduate and coming to live in Kenya was a bit scary. However, everyone has been very helpful, kind and patient."