The Aga Khan Academy Mombasa welcomed 22 new staff members from around the world to its community for the 2018 – 2019 academic year. Throughout the next few weeks, profiles of the new staff will be shown, introducing who they are and how they want to bring change to the Academy.
Alison Hampshire, Head of Academy: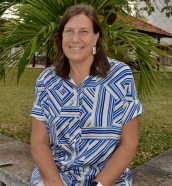 Alison HampshireAlison Hampshire was born in the United Kingdom and is the new Head of Academy. Alison has worked in various schools in the UK for 12 years, the Bishop Mackenzie School in Malawi for three years, the Nexus International School in Malaysia for six years and the South Island School in Hong Kong for eight years. With the new academic term, Alison said she hopes to have an open door policy with everyone.
"I am planning on listening to the views of as many people who are willing to share them in order to develop a better understanding of the strengths and areas of development of the Academy," Alison said. "By the end of the year I hope that I will have supported the staff and students to work together on moving the Academy forward in its pursuit of excellence."
Alison said the vision and mission of the Academy is a big part of her role that impacts her actions and decision-making.
"My position requires me to enable everyone who works at the Academy to be aware of, and understand the vision and mission that our daily work and practice reflects and supports the vision and mission."
Throughout her time at the Academy so far, Alison said she enjoys the friendly environment and interactions with everyone.
"My favourite part so far has been the welcome I have had from staff, students and parents," Alison said. "In particular I enjoy my lunch in the Commons with a group of Junior School boys and hearing their stories."