The Aga Khan Academy Mombasa welcomed 22 new staff members from around the world to its community for the 2018 – 2019 academic year. Throughout the next few weeks, profiles of the new staff will be shown, introducing who they are and how they want to bring change to the Academy.
Aileen Waitaaga, Academy Fellow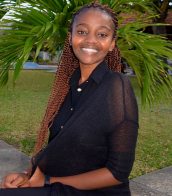 Aileen WaitaagaAileen Waitaaga was born in Mombasa, Kenya and was in the graduating class of 2014 at AKA Mombasa. She recently graduated from the University of Reading with a degree in law and is now an Academy Fellow focusing on the Student Representative Council.
Aileen said the position of Academy Fellow is her first full-time job, because she was a student before, so she said she hopes to gain some insight about herself.
"[I want] a new understanding of [myself] in light of the challenges this job will present," Aileen said.
Because her favourite part of the Academy are the students, Aileen said she wants them to look at the world through a more complex viewpoint.
"I intend to uphold the vision and mission of the Academy by encouraging students to think more complexly and critically about the world in which they live and [challenge] their preconceived notions about service, education and society."