A legendary classic with a modern day twist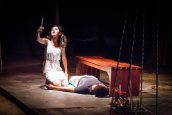 A devastated Julie decides to take her life when she finds her lover deadOur talented DP1 students presented a contemporary version of Shakespeare's classic 'Romeo and Juliet' on 05 March, 2016 at the Amphitheatre. The play was a comic adaptation of the original and was retitled 'Romeo and Julie'. The cast left no stone unturned and captivated the audience with a ravishing performance that brought on numerous spells of laughter.
All DP1 students participated in the organization of the event, either by acting or working in one of the following committees: stage management, costuming, lighting and sound, marketing and budgeting/logistics. This project helped students unleash their acting talents, leadership skills and also taught them the art of working together. In addition, students developed their time management skills as they had to balance their rigorous study schedules with rehearsals.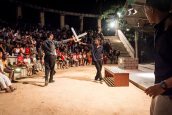 The epic fight scene that had the audience on the edge of their seatsIn this adaptation of Shakespeare's masterpiece, mood, setting and language got a contemporary reboot. While Romeo's dialogues were still in their original Shakespearen form, Julie's character spoke in modern day English. She was also a very relatable character for the audience as she embodied the rebellious teenager rather than the star-crossed lover Shakespeare intended her to be. The jokes, fight sequences, and conflict between Romeo and Julie's families kept the audience entertained till the very end.
The cast and crew complemented each other well, making the whole production a great success. Despite a large number of challenges, all the committees brilliantly fulfilled their designated responsibilities. "It was definitely hard and stressful to handle 84 students but, I had lots of fun doing it. I am so thankful to have had co-directors like Arshi and Mitchelle who really made the process run smoother and easier than it would have been otherwise. The actors and the rest of the crew were also very dedicated and sacrificed a lot of their time to make this play work, which made the process so much more fun" remarked the director of the play, Eman Salim.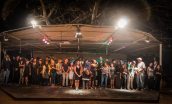 The entire cast and crew of Romeo and Julie thank the audienceThe play was marketed on forums like Facebook and WhatsApp, posters were printed and put up all around the school. Flash mobs also took place during the school assembly and at lunch time. The marketing committee came up with creative buy-one-get-one-free offers to promote the play.
Mr. Alex Mwololo expressed, "I strongly feel that this is one of the most amazing, talented DP1 cohorts among those I have worked with. The dedication, commitment and focus went beyond my expectations. I have done a number of productions with the DP cohorts but this was the most rewarding to me. I loved watching the students work on their own with minimum supervision from me or the mentors. Romeo and Julie was a complete success."
By Faliha Mukhi, DP1 (The Reporters)