Learning About Food Security in Kenya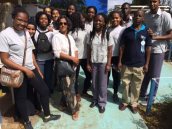 The group at the ASK Fair 2016On Saturday 03 September, 12 enthusiastic Geography students from DP2 embarked on an educational trip with their teacher, Mrs Bhagirathy Jhingran to the Agricultural Society of Kenya show in Nyali. In line with the topic of "Food and Health" that is part of the Geography syllabus, the purpose of the educational trip was for students to understand agricultural practices carried out in Kenya for ensuring food security. 
A good example of this is the National Irrigation Board's initiative called the Bura and Hola Irrigation Scheme that has enabled the growth of a variety of food crops such as spinach, tomatoes and cabbage among others. It was also a rare opportunity for students to observe other agricultural practices such as beekeeping, livestock rearing of rabbits, cattle and goats, and livestock vaccination. The Kenya Agricultural and Livestock Research Organisation kiosk had freshly brewed local Arabica coffee, which is a highly recommended purchase for coffee enthusiasts!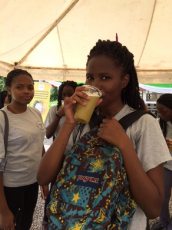 Enjoying a glass of sugarcane juiceIt was at this juncture that we indulged in fresh sugar cane juice to keep ourselves cool. Learning about hydroponics and urban farming further garnered our interest in agriculture. We were able to appreciate the role of farmers in the economy through this comprehensive fair, which is a showcase event held twice a year. We could actually see real crops on the field, and observe the activities of farm animals that facilitate the process of food security.
The excursion ended with a joyous camel ride, which was an exciting way to conclude the wonderful experience at the agricultural show. We bought a few plants and seeds from the fair and some of us tried rabbit meat which is being marketed as a better option in comparison to chicken in terms of its taste and nutritious value.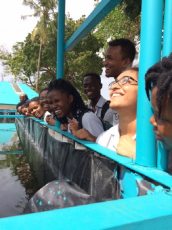 Students share a light moment during the tripZoya Mohsin found the trip to be very enriching and shared her insights with us. "Personally, I gained a better understanding of how agriculture and food production works in Kenya. Apart from the clear link with the course, the trip also served as time spent looking at situations through various perspectives-namely: the farmer, the consumer, the co-operate, and the government. The highlight of the trip for me, was seeing the multi-storey farming stall - I felt as though this particular innovation was incredibly original and unconventional (which made it even more interesting). Overall, I truly enjoyed being productive outside the classroom, and learning about the concepts we discuss in class - it was interesting to evaluate the effectiveness of concepts as they translate into actuality. I am truly grateful for having the opportunity to be able to take part in such trips and events which have clearly enhanced my knowledge and understanding!" says Zoya. 
It was a day well spent, outside the four walls of a classroom, with hands-on learning about agriculture!
By Bijou Mwaura (DP2)

Photo Credit: Mrs. Bhagirathy Jhingran