Language Field Trip to Mauritius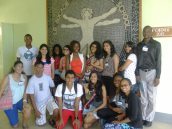 On March 22nd 2014, a group of 13 DP 1 students, who study French language at the Academy, were accompanied by French teachers David Ochola and Meritaton Kirigha on a language field trip to Mauritius.
The exchange programme was organised with the Le Bocage International School, Mauritius, which also offers the IB programme.
Mr. Gervais Ramar and Mrs. Fatma Ramar helped coordinate this programme and spent months making the necessary preparations and communicating with Le Bocage International School to ensure that the trip was a success. They have been very instrumental throughout the entire process.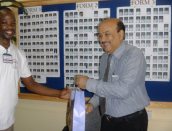 The aim of the trip was to give students a deeper understanding of the French language and to help them appreciate Mauritian culture by immersing them in people's day-to-day activities.
Each student was hosted by a family, and each teacher was hosted by a teacher of the host school. This enabled the students to further interact in French and to learn more about the culture first-hand.
On the first day, a school assembly was organised to welcome the Academy students.  This included a dance performance and the Kenyan National Anthem sung in Swahili by the Le Bocage International School students, followed by an exchange of gifts.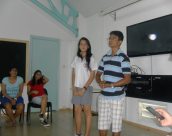 There was also a series of activities planned for the week, such as a trip to the theatre to watch the French play "Le Topaze" and a visit to the Museum and the capital city, Port Louis.  In addition to these trips, students were able to attend French classes as well as other classes at the school, such as Physics, Biology, and Math.
During the student's stay in Mauritius, Le Bocage International School took care of all accommodation, transport and food arrangements. The participants in this exchange experienced a high degree of hospitality, which students and parents of the Aga Khan Academy, Mombasa can attest to.
On the last day, Friday 28th March 2014, the students were treated to a farewell assembly and each student received a certificate of participation and a t-shirt.
Le Bocage International School has expressed its desire to have a continued relationship with The Aga Khan Academy, Mombasa, and both schools are excited by the prospect of future student exchanges between the two institutions.