Kenyan girls Skype exchange with Chicago students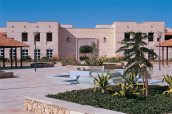 The Aga Khan Academy in Mombasa, KenyaThe Educating Girls in Science (EGIS) Project, founded by the Professional Development Centre and supported by INTEL and the Aga Khan Foundation, is an outreach initiative that the Aga Khan Academy Mombasa facilitates to fuel scientific knowledge and innovative problem-solving. Eight Kenyan girls were able to take part in a Skype exchange with students at Nicholas Senn High School in Chicago. While the students gained competency in communication and computer skills, they were also able to break down assumptions and cliché stereotypes about one another's culture, language and lifestyle.
The exchange was a real-life application and experiment of breaking stereotypes, a concept taught in the Theory of Knowledge (TOK) course. TOK's curriculum enables students to self-reflect on how ideas, beliefs and understandings are developed, ultimately allowing them to become aware of the ways in which they think. During the exchange, they showed each other the sports they played, the food they ate and the places they lived. The students were humbled and were quick to realize that there were far more similarities versus differences amongst them.
Stereotypes are often media-driven and sustained by the lack of exposure to the unknown. Allowing these young leaders a glimpse into the other side of the world, which has sparked fascination rather than fear. The Skype exchange inspired further curiosity in the students in Chicago, expressing their desire to expand their horizons and travel to Africa.