Junior School SRC Promotes Sustainable Alternative to Disposable Plastic Cups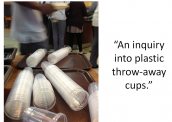 The Junior School Student Representative Council (SRC) has successfully managed its first initiative. The council, made up of seven elected members, poured their hearts and efforts into an ambitious project aimed at changing the way we view and use disposable plastic cups. This project required a substantial amount of research and time investment to make people aware of the environmental harm caused by the unrestrained use of disposable plastic cups.
The SRC's strategy included spending time to inquire, interview, and persuade the community about the damaging environmental effects of using disposable plastic cups, as well as the benefits of switching to an alternative product. Backed by thorough research, they successfully argued that we could be saving huge amounts of money as well as reducing land-fill simply by purchasing re-usable hard plastic cups instead. With time and hard work, they were able to transform their vision of a more sustainable cup use into a reality.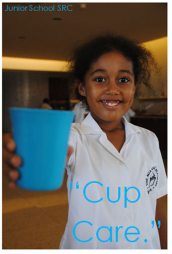 This project has been a real learning experience for the Council and it gave the members an opportunity to develop valuable skills along the way. The level of enthusiasm and commitment that the SRC has shown towards their school is truly commendable.
The SRC has many other projects in mind, but has a policy of doing a small number of things really well, rather than touching briefly on a lot of projects. Watch this space for further announcements. We are certain that we will witness a great deal of action and change in the coming months due to the Junior School SRC's continued commitment to new and exciting endeavours.