Junior School organises camping event for year 3 students!
On 22 and 23 November 2019, the Junior School at Aga Khan Academy Mombasa organised an overnight camping event in school for year 3 students. Here we learn more about the event from Dylan Shah (year 3) who was one of the campers.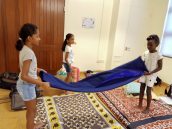 Naqiyah Hassanali (year 3), Sarah Bhaiji (year 3), Elliana Maina (year 3)The two-day camping event organised by Junior School at the Aga Khan Academy Mombasa on 22 and 23 November 2019 provided year 3 students an opportunity to develop self-management skills. My favourite part about the event was that we got to play a lot of different team-building games.
The event began with a meeting with our Junior School Principal Ms Annia in the music room, after which we changed our clothes to play sports. We played games like shrinking island, football, catch and catch and board games. After games we took a shower in the Multi Purpose Hall (MPH) changing rooms.
We were divided into different groups and every group had a different responsibility. In our group, students laid the table and placed forks and spoons very neatly. After setting the table we ate dinner and had dessert. The food was really yummy; we loved our dinner. After dinner we went to our rooms, got popcorn and watched a movie.
We were asked to go to sleep at 9.30 pm. We didn't want to sleep. The following day we woke around 6.00 am. We changed our sleeping clothes and packed our bags, after which we went for breakfast behind the Commons building. Later in the morning, we played a treasure hunt game where we competed in groups to find hidden treasures. It was fun playing this game because it was raining, and we had to run in the rain. We then went home after the treasure hunt game.  
It was a very good experience and I want to do this again.