Junior School celebrates Mother's Day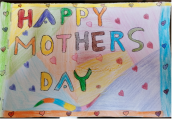 On 10 May 2020, Junior School students from the Aga Khan Academy Mombasa celebrated Mother's Day, which honours mothers and mother figures for their unconditional love and support.
The Junior School library and Student Representative Council team led students in appreciating mothers at the Academy.
Students paid tribute to their mothers by writing thoughtful letters, making drawings and creating colourful cards.
See their creative tributes here.