Junior School celebrates International Dot Day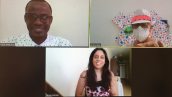 Junior School faculty celebrating dot day.On 15 September 2020, the Junior School community at AKA Mombasa celebrated International Dot Day, which celebrates creativity, courage and collaboration. This marked the first time the school was celebrating this following a suggestion from our new Visual Arts teacher, Donna Scott.
Dot Day is inspired by Peter H. Reynolds' book 'The Dot', which tells the story of an art teacher who encourages a young girl who believes she cannot draw by telling her: "make a mark and see where it takes you." Starting with a small dot on a piece of paper she unlocks her creative potential and goes on a journey of self-discovery and creativity, in which she inspires others.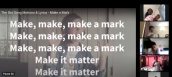 Junior School students dancing to the 'dot song'.To mark the day, Junior School students and teachers participated in a number of activities during their online classes including dancing, singing the 'dot song' and discussing the significance of Dot Day.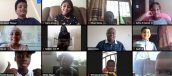 Students donning polka dot outfits.In addition, students and teachers incorporated a dot theme into the day's events by donning polka dot outfits, beautifully dotted face paintings and colourful dotted stickers.
"A dot might be small, but it's a powerful way to show your unique individuality and creativity," said Junior School Principal, Annia Dear.
The powerful themes of bravery, self-expression and creativity expressed in 'The Dot' are manifested in the Academy's Primary Years Programme, which seeks to develop lifelong learners who use their gifts and talents to make the world a better place.