Junior NBA Youth Basketball Challenge in Tanzania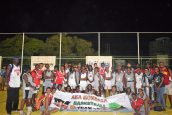 The Under 16 Boys and Girls team with CoachesThe AKA Mombasa Basketball team took part in the just concluded Junior NBA Youth Basketball Challenge in Tanzania at Jakaya M Kikwete Youth Park. The teams included the under 16 boys and girls, the boys finished as the first runners up and the girls came as second runners up. The philosophy of the Junior NBA is to share the game of basketball with youth across the world by teaching skills, values and wellness in a positive and fun environment. This philosophy complements the teams mission of being a complete and well-rounded player which is overtly incorporated in trainings.
The students took time to reflect on their trip to Dar es Salaam, the growth that came about from their experience at the tournament and the lessons they learned along the way:
Allan Mwandawiro (DP1): 
"The vigorous basketball program that the school has set up has really helped my growth as a basketball player for it has not only taught me playing skills, but has also disciplined me in the process. When I first entered the team, I was afraid to express myself when I had the ball. The basketball program has been set in a way that gives the players a lot exposure to different types of teams and the ideologies they play with. This exposure really helped spur my game to another level because with each passing game and with each training session, my confidence in my ability increased same as for the knowledge I have in basketball."
Renish Kanjiyani (DP1):
"When I hear the words rim and ball, the word that comes to my head is dunk. I stand 5'7 and play as the point guard for the team. I have been playing basketball for four years now, and each year I get the opportunity to exploit my skills in various tournaments that take place. In most of the tournaments I have been able to take part in have mostly taken place in Nairobi, but this time it was different. Our school was officially invited to the Junior NBA Tournament in Dar es Salaam, Tanzania. I was elected as the captain for my team and leading from this position can really be challenging at times."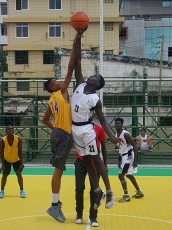 An intense start to a match Jonathan Ssemuwemba (year 10):
"…[t]he next game to be played was the finals, this game was the most challenging of all of them as it had the most weight on it and the opponents we were playing against were much more experienced and bigger than we were. We lost this game although rather than taking it as a loss, we took this a learning experience and we made new friends in the opposing team. The same day at night we looked over how we had done in the tournament and then made a plan for the following day. The next day we headed back to school.
This experience wasn't only testing to my physical strength but also my mental strength because playing against stronger opponents requires a lot of self-confidence and also self-reliability. This experience allowed me to notice my weaknesses, my strengths and allowed me to look at where I could improve. I noticed that I had to become more composed when under pressure and I also need to work on relying on my game and how I can play against different levels of competition."
Denise Musoke (DP1):
"This trip helped us develop a stronger bond with the rest of the team players which I believe will help us with our usual training in school. From seeing the way, the girls' teams from Dar played, it motivated us to become more committed to our training and be more unified as a team so that we can play better than we did in this tournament and emerge first place in the years to come."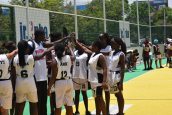 The girls team gets ready to play a matchVictoria Stanley (year 9):
"I personally believe that this trip was really instrumental to me as a person, this is because I got to improve in my leadership skills considering the fact that I was a captain and I had to motivate and make sure that no one gives up in my team. I clearly remember when were about to play our second match against Nia Njema girls, everyone in my team had given up after losing the first match, therefore no one wanted to play but Mr. Auka, our coach, called me and we had a talk which really changed my attitude from negative to positive. This change in attitude amongst the team members resulted in my team winning the next match 20-5."