JS Arts Week Newsflash #2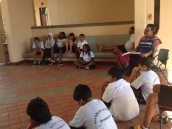 The Drama club brainstorms the storyline.The Arts Week preparations are coming along well. Currently, the script is still being written with the remaining scenes to be ready by end of week. The drama (or scriptwriting workshop) leaders shared with the teachers their "big picture" as regards to the direction the script is to take. This gave the other groups a sneak peek into what would be required of them in terms of their contributions to the production.
The movement group has so far explored the different civilisations as well as the concepts set out. This week, they worked tirelessly on putting together a Zulu dance. Though the nature of steps which involved energetic kicking and stamping seemed too complex at first, a little modelling by the teachers and practicing by the students eventually brought it all together. The group members agreed that a drumming beat would fit their movement and so their next goal is to find the perfect beat that will create the atmosphere needed during the play.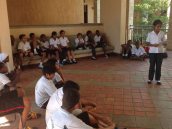 Students practice their scenes from the play.In the art workshop, students concluded their futuristic painting this week. In completion of that students were taken on a visual tour of what traditional Ndebele houses looked like in the past compared to what we see in the present. Through this, they got to explore the use of colour and pattern as an element of the house symbol paintings and discussed how they can mimic these in their pieces of art, to be used during the production.                                                                                                                         
So far the music workshop is engaged in learning their songs and are doing well. At present, their target is to refine these and, at the same time, come up with appropriate movement that can sync with each song and scene. Next week, they will begin to work on songs from the coast. Will these be in Kiswahili? Your guess is as good as ours! 
As with other workshop groups, the backdrops and tech members spent a good chunk of their time not only exploring the chosen civilisations again, but looked closely at them in order to pick the best representative images to be used for each scene. Next week, they are tasked with sorting out what they gathered in terms of best fit.
After a visual exploration of clothes and accessories worn during the time periods of the chosen civilisations, the costumes group embarked on preparing initial outfits and accessories. Their designs were informed by the patterns and colours they noticed as well as the roles the actors will play during the actual production. The year ones are enjoying themselves working on the accessories and are quite engrossed in it!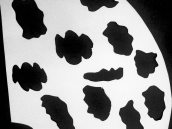 Templates designed by the Costume club.Want to know more about Arts Week 2017-2018? Check out our first article here.