Inventor's Fair through the Silk Road
On 18 January 2019, the year 8s had an Inventor's Fair where various groups discussed the numerous inventions seen in the Silk Road. Here, two year 8 students involved in the Fair share their experiences.
"The Inventor's Fair was a wonderful learning experience, which celebrated the Silk Road. Throughout the process, we were split into groups and given different tasks to work on. During the unit we learnt a lot and discovered the Silk Road. This Fair helped me open up and be more open-minded to different thoughts and ideas. It also enhanced my collaboration and communication skills with other people and my classmates. I learned how to work with different people, learn about them and how to manage work with them. Everyone in my group was in a different class and I barely knew anything about them and how to work with them, but this Fair allowed me to enhance my collaboration skills.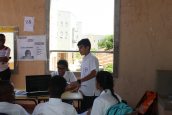 Maaher Bhaloo, year 8, presenting during the Inventor's Fair.It boosted my communication skills because I had to talk to them for us to get work done, we had to get to know each other a little before we continued our work and we learned how to talk to each other and slowly started to make jokes and understand each other as well as help each other.
This Fair gave me a great opportunity to mingle and be diverse with people from different countries, religions and overall backgrounds. I got to know the people I already know even better. We went through ups and downs, telling each-other who should be doing the work, but overall, we all put up a great show. It helped all of us build our confidence, talk in front of people and there was something wonderful speaking and presenting to the Senior School Principal, Mr. Francis Kariuki about arches and domes in the Silk Road. Overall, this was a marvellous and brilliant experience and helped me in many various ways." - Maaher Bhaloo
"Every year the year 8's are given the opportunity to present what they have learnt in their humanities classes. Most of the units we cover are connected to the Silk Road, an ancient trade route that connected the East to the West. We presented our work by researching on a given invention that was either traded on the Silk Road or a result of trade on the Silk Road. During the Inventor's Fair we were split into groups where we were to research on the invention, consider a way the invention could be changed and what impact the change would bring. We were also required to create a timeline of our invention and prepare a pitch to sell the invention to the stall visitors.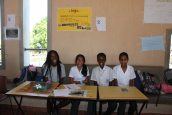 Nadia Ntege (far left), year 8, with her group during the Inventor's Fair.The Inventor's Fair was overall a great way to enhance some of our interpersonal skills, such as creativity where in groups like mine we created a model of the garden we changed for the better. Also we were able to learn how to work and cooperate with different people that we're not familiar with and create a reasonable piece of work out of it. For most of us, presenting our work to a group of students for the first time was a way to build on our confidence and test our capabilities to present. It was also a way for us to deepen our understanding of what happened along the Silk Road other than what we are taught in class.
This Inventor's Fair was a fun and memorable experience. I enjoyed that our presentation was very unique. It was also fun to be on the other side of the presentation tables for once." - Nadia Ntege